We all need a break from the hustle and bustle of our lives. That's why escaping for a nature getaway is the perfect way to reenergize. So leave the kids behind and plan your vacation with your significant other with these nature getaway tips: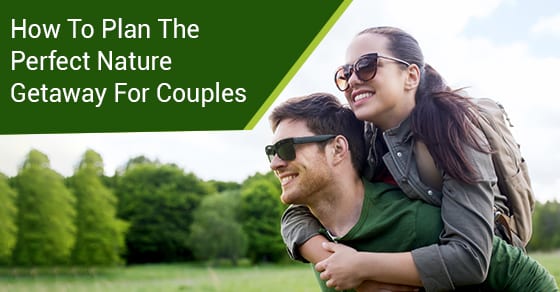 Let the Romance Happen 'Naturally'
If you label your nature getaway as a "romantic trip," you're setting the bar too high. Instead, let the romance happen naturally. The whole point of a couple's getaway is to relax and enjoy each other's company. If you force romance, you'll spend less time connecting and more time trying to set the mood.
Cabins vs. tents
While some people revel in the idea of pitching a tent and camping under the stars, others are more likely to squirm at the sight of bugs. If you're only looking to spend time outdoors during the day, rent a cabin with amenities instead of trying your hardest to set up a tent. Plus, camping accessories can be expensive and may cost more than renting a cabin.
Research Your Destination
You don't have to be an expert on nature, but you should what poison ivy looks like and how to avoid it. Before you leave on your getaway, read up on the area you're going to. Oh, and bring your bug spray. Mosquito repellent is a must because you don't want to spend half of your vacation rubbing calamine lotion on your partner's itchy legs.
Unplug
When you reach your destination, make a point to not be checking your phone constantly. You don't have to turn your phone off — in case the babysitters needs to reach you — but keep your phone in your bag so you can appreciate the scenery with your significant other.
For more information on our cabin rentals, trails, and fishing on our lake, call the Loughborough Inn today at 1-833-864-9348 or contact us here.